How to set up
There are 2 options to set up an account. For both options, you'll need to:
Provide government-issued ID
Do a security check to verify your identity with your ID. It protects your identity and makes sure no one else can access services as you
Choose an option
Please note: either option can be used to log in from a computer or laptop.
---
Option 1: Mobile app
The BC Services Card app is free. Only download it from the official app stores listed below.
Only provide your information and verify your identity in the app. Read a step-by-step guide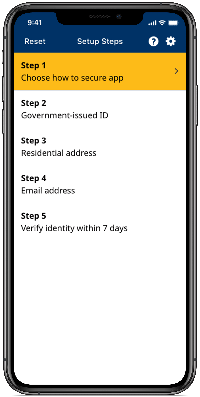 ---
Option 2: Username, password and BC Token
To use a username and password, you'll also need use a BC Token. This option is available if you do not have a mobile device or cannot use one.
A BC Token is:
A small device that displays a code. You get a new code to enter each time you log in

An extra layer of protection that makes it secure to log in with a username and password
Free to get. Each person gets their own. It cannot be shared with others
Learn more about the BC Token
You do not need a username and password to log in from a computer or laptop. You can use the mobile app.