Notifications
When you set up the BC Services Card app, you'll be prompted to allow notifications.
We recommend you allow the app to receive push notifications. Then there is a faster way to log in from a computer. You can skip entering a pairing code each time you log in and get a notification sent to your mobile device.
A notification is a message that pops up on a mobile device. For example: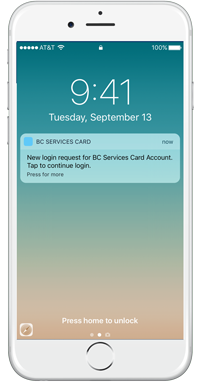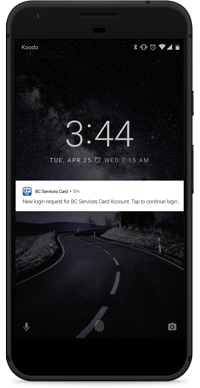 You'll receive a notification when:
The app is ready to use
You choose to log in from a different device
There are changes to your BC Services Card Account
It's time to renew the app
The app is updated
Having problems?
If you do not receive a notification after you chose to log in with your saved mobile device, check notifications are enabled for the BC Services Card app.
To check if notification are enabled for the app:
Unlock your mobile device
Open Settings
Tap on Notifications
Set "Allow Notifications" to on
---
Need more help?
You can find more help in the user guides. If you're not able to find what you're looking for and want to talk to someone, call the BC Services Card Help Desk.
BC Services Card Help Desk
Open Monday to Friday (except statutory holidays)
7:30 am to 5 pm Pacific Standard Time
8:30 am to 6 pm Mountain Time
604-660-2355
(Within Lower Mainland or outside Canada and USA)
---