Verify your email address to set up the app
Why you need to verify your email address
You need to verify your email address when you set up the BC Services Card app. We'll email you a code to enter in the app. This will:
Prove you have access to that email account
Confirm you entered your email address correctly
How to verify your email address
1. Enter your email address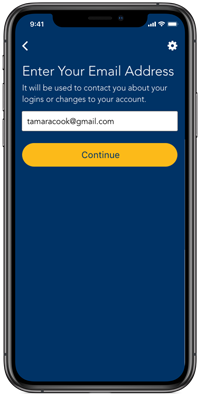 Open the app

When prompted, enter your email address
2. Get your verification code
Go to your email account
Open the email with the subject line "Verify your email address for your BC Services Card Account"
Copy your verification code displayed in the email
You do not need to keep this verification code. Each time you set up the app the verification code will be different​.
3. Enter verification code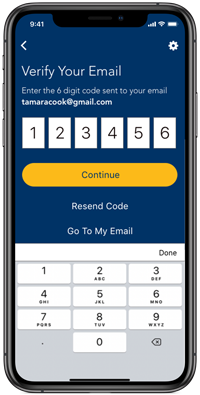 Enter the verification code in the app
Tap continue
Troubleshooting problems
If you haven't receive an email with a verification code, be patient. It may take a few minutes to get the email.
Here are some tips to help you find it.
1. Check you entered your email address correctly
Go back and look at the email address you entered. If it's incorrect, update it.
2. Search for the email
We send the email from BCServicesCard@gov.bc.ca. You can search for it. If it isn't in your inbox, check your folders. If a spam filter or email rule moved the email, it might be in the Spam, Junk, Trash, Deleted Items, or Archive folder.
3. Make sure you're checking the correct email account
If you have multiple email accounts, make sure you're checking the correct email inbox.
4. Resend the email
To resend the verification code, close this screen, and choose the "Resend code" option. Use the code in the most recent email you receive. Any previous codes will no longer work.
---
Need more help?
You can find more help in the user guides. If you're not able to find what you're looking for and want to talk to someone, call the BC Services Card Help Desk.
BC Services Card Help Desk
Open Monday to Friday (except statutory holidays)
7:30 am to 5 pm Pacific Standard Time
8:30 am to 6 pm Mountain Time
604-660-2355
(Within Lower Mainland or outside Canada and USA)
---